Learn How to Set Up the Product Page for your Tapcart Sales Channel!
Product pages are an impactful part of your store, with great product pages helping your search engine rankings and bringing in more organic traffic. Now, with Tapcart's product page builder, you can fine-tune and customize the product page layouts in-app by adding more content and integrations. Thus creating a dynamically engaging experience for your customers.
What is the Product Page Builder?
The Tapcart Product Page Builder is a drag-and-drop editor that allows you to customize your mobile app for optimal conversion. Each block offers the ability to upload unique content to create an experience exclusive to your brand. Our goal is to provide a tool that best allows you to create a product page that will increase your in-app conversion rate.
Any changes you make to your Product Page layout will update your live app in real-time, allowing you to offer promotions, display branded content, and keep your app fresh and up to date. Please note, that any changes made to your Product Page will be made across all products. You cannot customize individually per product.
Setting Up the Product Page Builder in Shopify
Before using the product page, you will be prompted to approve permissions in your Shopify dashboard. This feature will ask for permissions under 'Manage Other Data' with 'product tags'.
Important Note: You must be the Shopify account owner to set up the account. If you are not the account owner, you will receive an error message.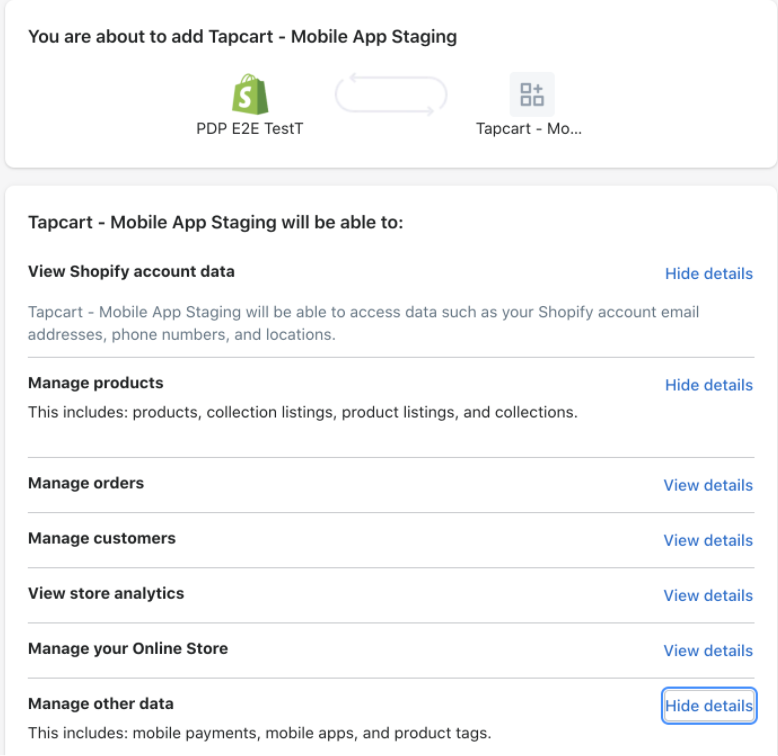 Select 'Approve' and you are ready to begin!
Next Steps
Now that your account is set up to utilize the Product Page Builder, check out our guide on how to customize your product page here.
Considerations
The functionality and blocks vary based on your Tapcart plan:
You must be on Tapcarts Ultimate or Enterprise Plan to utilize this feature

Tapcart Enterprise has access to Dynamic Layouts for flexible product pages and Nosto product recommendation blocks
For more information on plans, check out our pricing page. If you are interested in exploring the benefits of our plans, please book a demo with our Brand Experience team.
More Questions
If you have additional questions on getting started with the product page builder, we're happy to help! Please reach out to a Tapcart Team member through our LiveChat in your dashboard or you can email us at help@tapcart.co.