What is KnoCommerce?
KnoCommerce is a post-purchase survey tool natively integrated into the Shopify confirmation page and appears at the top of the page as soon as a customer completes their checkout!
Why KnoCommerce + Tapcart?
Since KnoCommerce is natively integrated, they get a whopping 45% completion rate in surveys! That's almost 1 in 2 customers that take the survey and who can then be redirected to download YOUR mobile app! Through KnoCommerce post-purchase surveys, brands can gather valuable insights and feedback directly from brands. Outside of customer engagement, which builds brand loyalty and encourages repeat business - KnoCommerce can be used to promote app downloads and increase user adoption for mobile apps.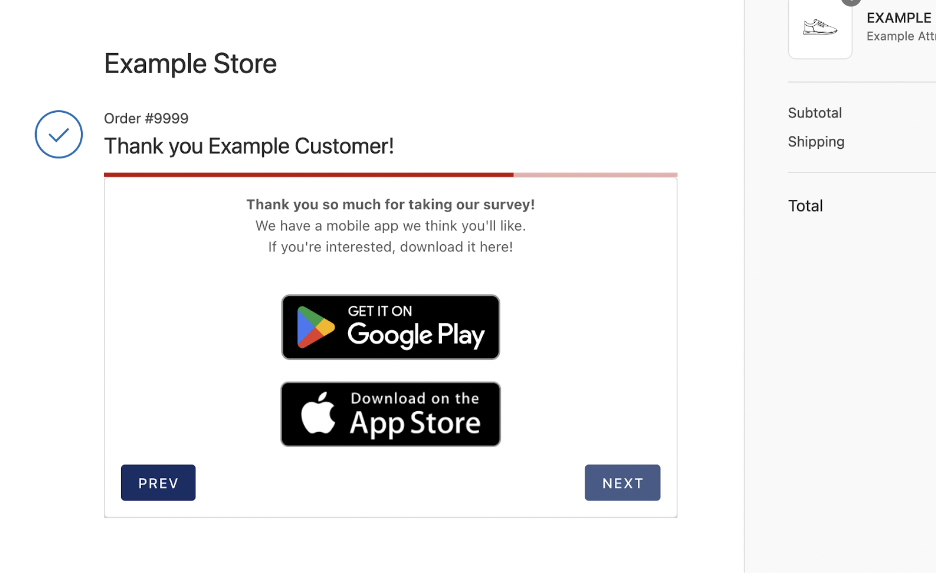 How to Connect KnoCommerce + Tapcart?
Here's how to set up this integration:
The integration is available to all Tapcart customers and KnoCommerce customers. For more information on KnoCommerce, check out their website.
Confirm your Tapcart x KnoCommerce account has been set up with your Account Manager or Implementation Specialist. If you have any questions about this, you can always contact us at help@tapcart.co.
Steps
Navigate to https://link.knocommerce.com/tapcart
Select Shopify and log in through your Shopify store
Next, you'll be prompted to fill in the 'Account Information that best describes your business

For "How did you first discover KnoCommerce?" select 'Agency or Tech Partner'
Which problem(s) are you hoping to address? - Customer Insights

Once the account is created you will select the 'Tapcart' plan
The next question will ask, 'How will you deliver your survey?' and you can select 'I'll add it to my order confirmation'
You will then enter a survey title and click 'Next'
Under the 'Quick Add' field, search for 'Tapcart App Template'
Then select 'Next' and 'Complete'
Lastly, in the text editor, you will simply link the images to the Tapcart Magic link found in the merchant's dashboard for both Google and Apple buttons.

Both should open in a new window
Considerations
Once you publish the form, it will be live on your checkout. Hold on publishing the form to your Shopify Store until your App is live.
More Questions
To learn more about Tapcart, visit Tapcart Academy to become a mobile app expert!
If you have additional questions about KnoCommerce, we're happy to help! Please reach out to us through LiveChat on your Tapcart Dashboard or you can email us at help@tapcart.co!