Offering discounts will convert anyone browsing your store into a buyer, but offering exclusive discounts to app users creates a unique sense of engagement with your customers. Discount codes can be generated for a dollar value discount, a percentage off, or free shipping! In this article, we'll review how to create discount codes in Shopify!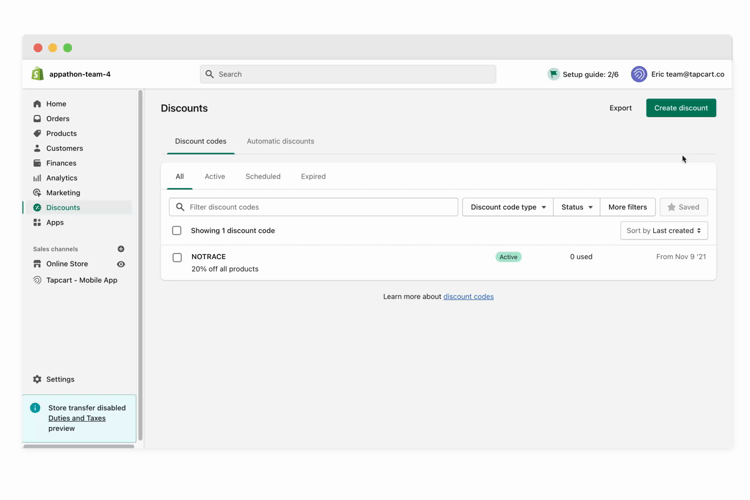 Steps
To create a discount code, navigate to your Shopify Dashboard

Select 'Discounts' on your right side menu

Tap 'Create Discount' in the top right corner

Click 'Discount Code' and from here you can customize the restrictions of your code!

Once completed, navigate to Tapcart Dashboard

Go to 'Settings' and select 'Customizations'

Under the 'Discount Code Popup' section enter a custom message with the discount code created in Shopify.

Select 'Save' and you're all set!
Pro Tip: Add a banner on your app's home screen or product detail page promoting the discount code! For more information on creating custom banners check out this article.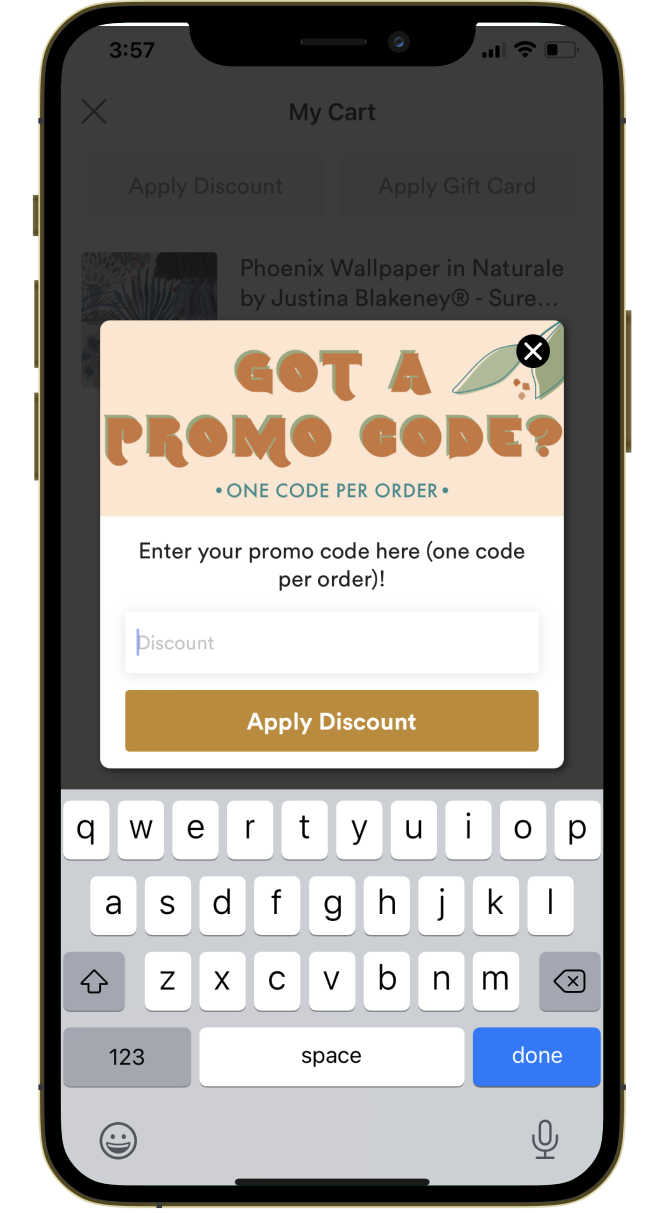 Considerations
You can find Shopify's full guide on discount codes here!
The discount code entry field will show during checkout, only if you have active discount codes available to your customers.

Only one discount code can be applied at a time, to a single order. If you have a 10% off discount, your customer can not use a "free shipping" code too.

You can limit discount codes to one per customer in the 'Usage Limits' section on the 'Add Discount Page' in Shopify.

If you set an expiry date for a discount, then the discount will expire at 11:59:59 PM on that day.

Customer groups (created by saved searches on the Customers page) are useful for sending discount codes to a select group of customers. For example, if you want to send a discount code to customers who have spent $100 or more in the last month, then you can apply filters to create a group of these select customers, export their email addresses, generate a special code, and send it to these customers only.

You can fully edit your discounts.

You can apply collection discounts in two ways: either as a fixed monetary amount applied once per order to every applicable item in a cart, or as a percentage discount applied to an entire collection. Choose the method you want in the 'Applies To' section on the 'Add Discount Page'.

Collections can't hold individual product variants. If you add a product variant to a discounted collection, then the collection discount applies to every version of the product.

Product-specific discount codes will apply to all quantities of a product when a customer applies the discount code. For example, if a customer adds 10 of the same product, then the product-specific code will discount all 10 items.

You can apply discount codes to a specific variant of a product. These codes will apply to all quantities of the variant in a cart.
More Questions
To learn more about Tapcart, visit Tapcart Academy to become a mobile app expert!
If you have additional questions about setting up the Discount Codes, we're happy to help! Please reach out to a Tapcart Team member through our LiveChat in your dashboard or you can email us at help@tapcart.co!