What is the Integration?
Algolia Search and Discovery is similar to Instant Search Plus and Searchanise an e-commerce search and discovery platform that enables retailers of all sizes to deliver fast and personalized e-commerce experiences that drive engagement and conversions across the web and mobile. Algolia comes with a suite of tools built for Shopify users that allow you to analyze, optimize, and merchandise the experience.
*This integration is only available for Tapacart Enterprise plans.
How does it work?
Algolia connects with your Shopify store product catalog and collections to provide a frictionless search and navigation experience. Easily bring search autocomplete, typo tolerance, synonyms management, filters and sorting, and many more to your customers, on any device, with unparalleled speed and relevance. If you do not have an Algolia account, get started here.
What are some of the benefits?
Typo-tolerance:

if there's one place where users make typos, it's on mobile.

Speed:

mobile network tends to be slower, making speed an even more critical feature.

Relevance:

on a small screen, it's even more essential to find the best results at the top of the list.
How do I connect the integration?
If you are already an Algolia customer, simply follow these steps to connect:
Open your Shopify Dashboard and click on the "Apps" tab

Find the app titled "Algolia Search and Discovery"

Click on the "Settings" tab

Copy and paste the "Admin API Key", "Search API Key", "Application ID" values in their respective fields on the Tapcart Algolia Search integration page
What to configure on your Shopify Store > Apps > Algolia?
Enable "Collection Pages" for Filtering and Sorting to work


Enable "Include Search by Algolia" under Display > Display Preferences


Additional configuration required on your Algolia dashboard:
To make sure there are no duplicate products in your app, go to your main product index > Configuration > Deduplication and Grouping and update your settings to below: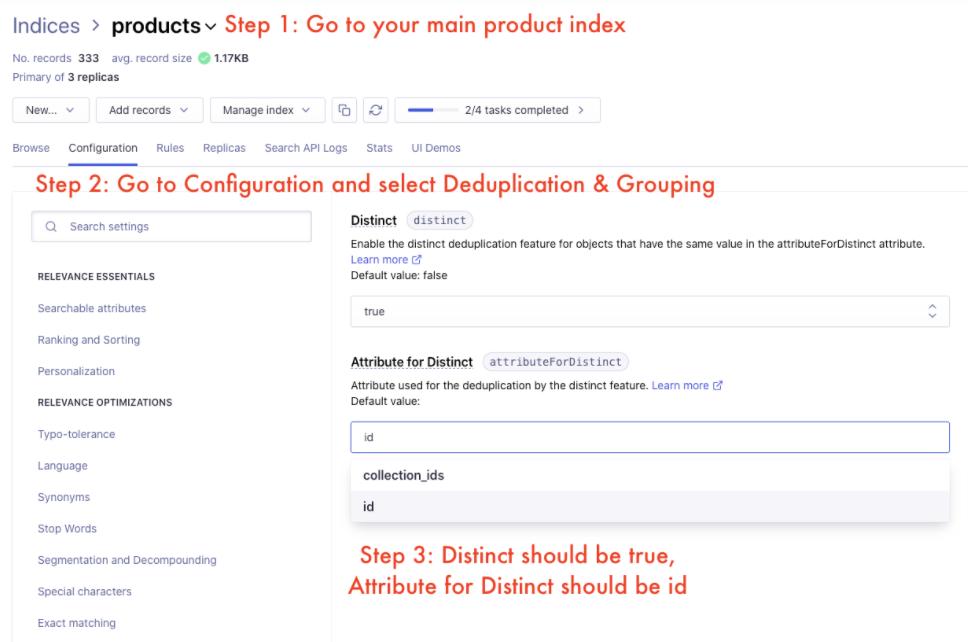 How do I use Algolia Search and Discovery integration?
The merchant will be required to set up their search index in Algolia's dashboard and give the index name to Tapcart in our Web Dashboard.
Indices:

The files from which general search, filtering, popular search, and trending search yield their results

Facets:

Filters (ie. colors.options, size.options, etc)

Tags:

Filters that are customizable and not included in Facets

Tapcart currently does not support custom tags
Search Functionality
General Search:

homepage and collection page search (

required)
Popular Search:

start typing and popular search / predictive algorithms

(required)

Please make sure to choose "

products_query_suggestions" for this index on the Tapcart dashboard. Your app will display "Popular Search" results once your app is live and users are on the app with Algolia integrated.

Trending Search:

before you start typing trending search will show you what users are looking for

(automatic with Algolia's algorithm)
Discovery Functionality
Filtering:

comes from the predetermined facets in the dashboard

(required)
Sorting:

pulls from the customized tags in place

(optional)
Please keep in mind that sorting and filtering will not work together.
If you would like to connect your Algolia account to your Tapcart mobile app, go into your Tapcart Dashboard to connect the integrations.
If you are interested in Algolia, get started here.