Most businesses use Google Analytics to manage their search engine optimization and marketing purposes on the web but for mobile, Google recommends Firebase! Firebase can send data to Google Analytics or Google Ads to provide you with a holistic picture of what's going on in the app. In this article, we will walk through how you can optimize the Firebase Dashboard.
Analytics
Dashboard
All your analytics come through the Firebase Dashboard, from here you will be able to see:
Active Users

User Engagement by Type

Crash Reporting

Adoption

Platform Breakdown

Location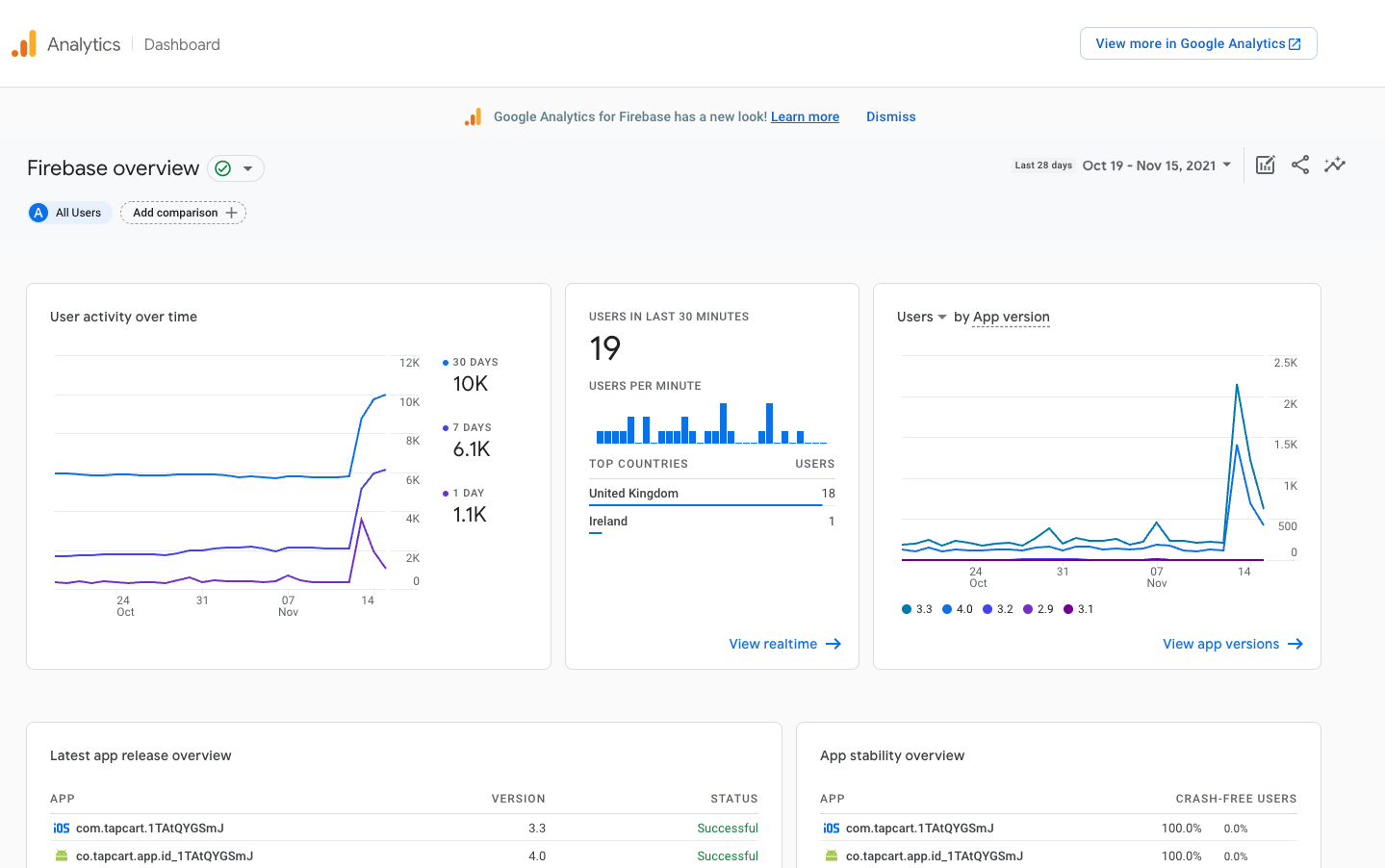 Events
View all trackable events under the 'Events' tab on the left-hand side menu. Tapcart has implemented Firebase's eCommerce Analytics, the trackable events and parameters can be reviewed in their documentation here.
Customize your Firebase Dashboard view by marking specific events as conversions to easily access them on your dashboard.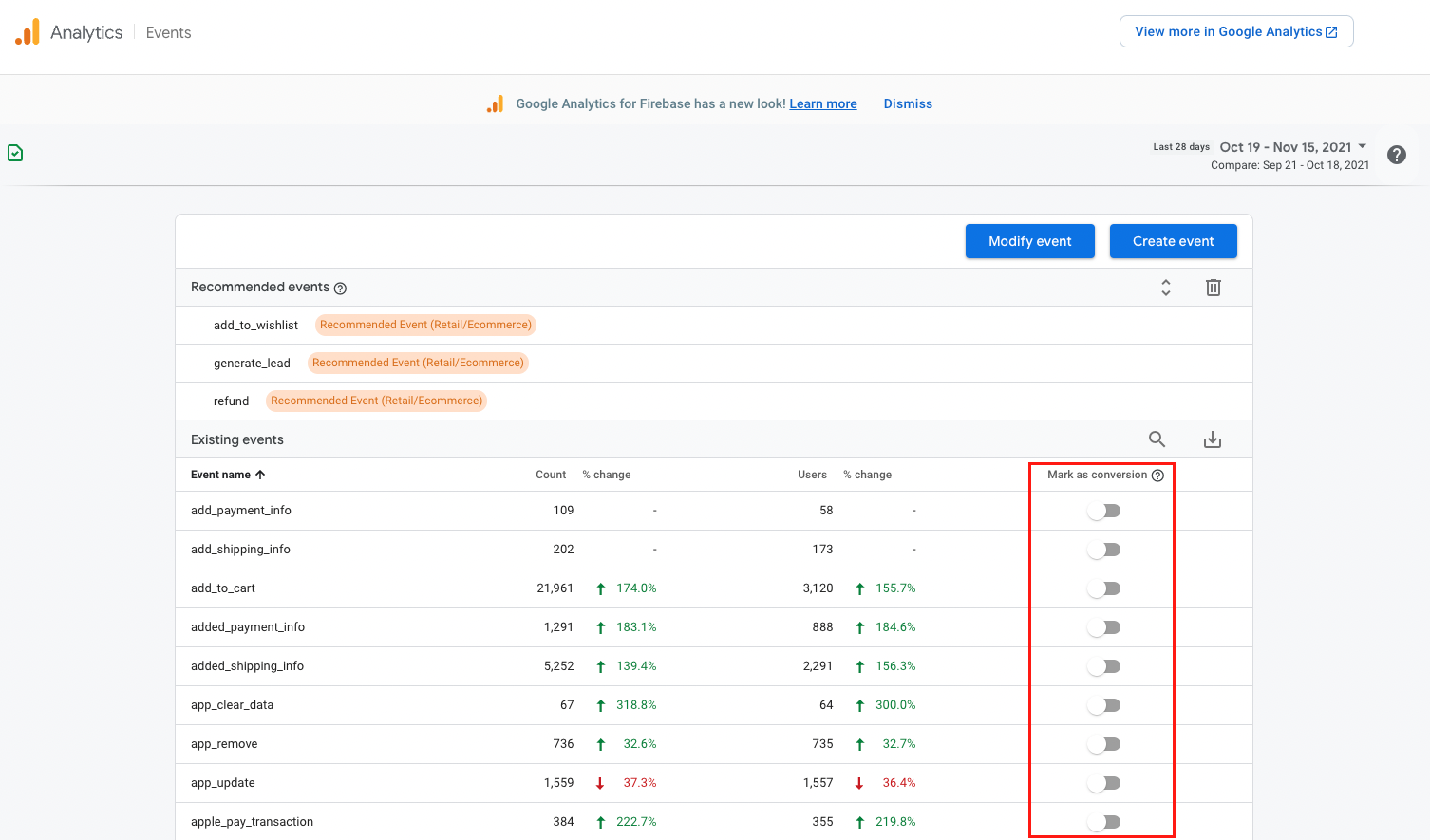 To have a more in-depth view of each event, simply click on the specified event! From here you can view detailed information such as top products added to cart.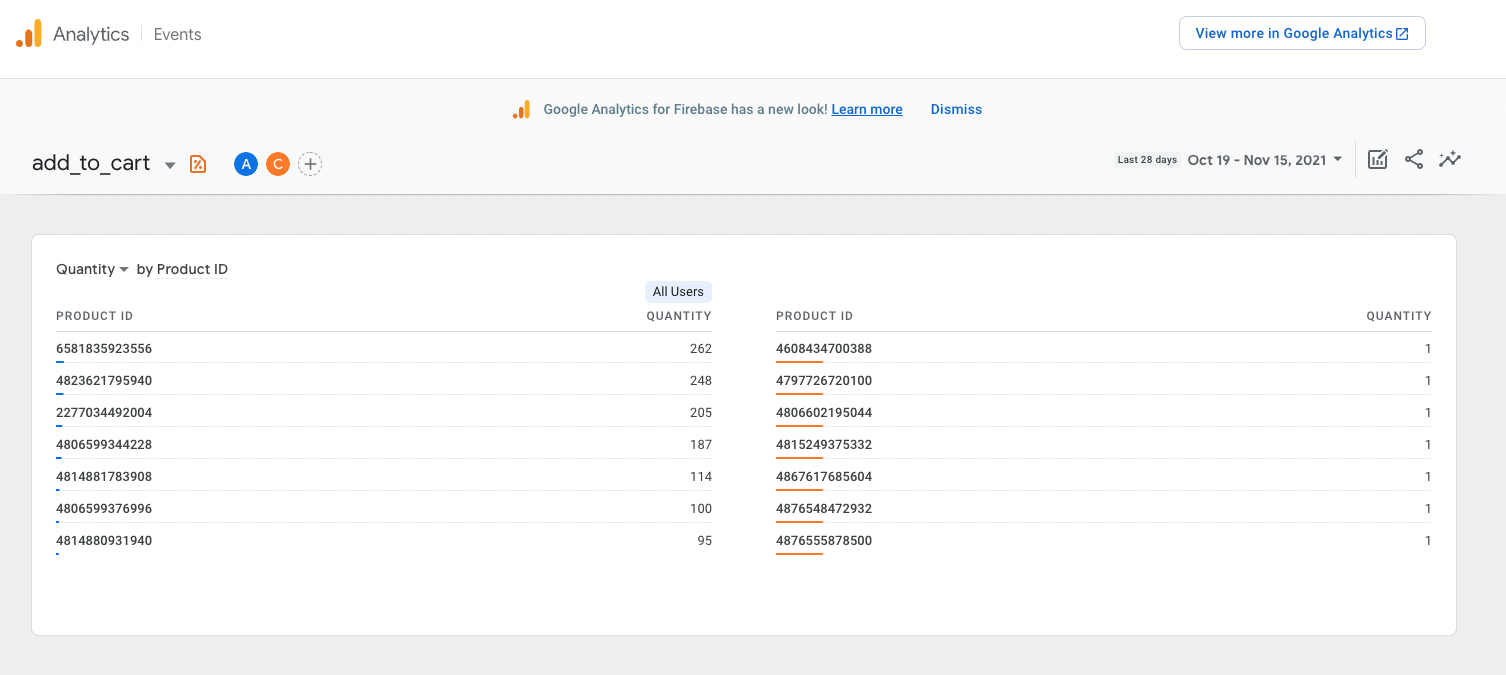 Export any event into a CSV, by selecting 'Share this Report' in the top right corner, 'Download File' and 'Download CSV'. You can modify the date range before exporting by simply clicking on the drop-down menu next to the current date range.

Audiences
Create audiences based on certain behaviors. Simply click on 'New Audience' and from here you can create a custom audience or select one of the recommended audiences by Google.

Funnels
With Funnels, you can view the completion rate of a series of events. For example, you can create a funnel that contains the steps necessary to add an item to cart. With this data, you may discover if there is a specific stage during this process where users abandon the checkout process.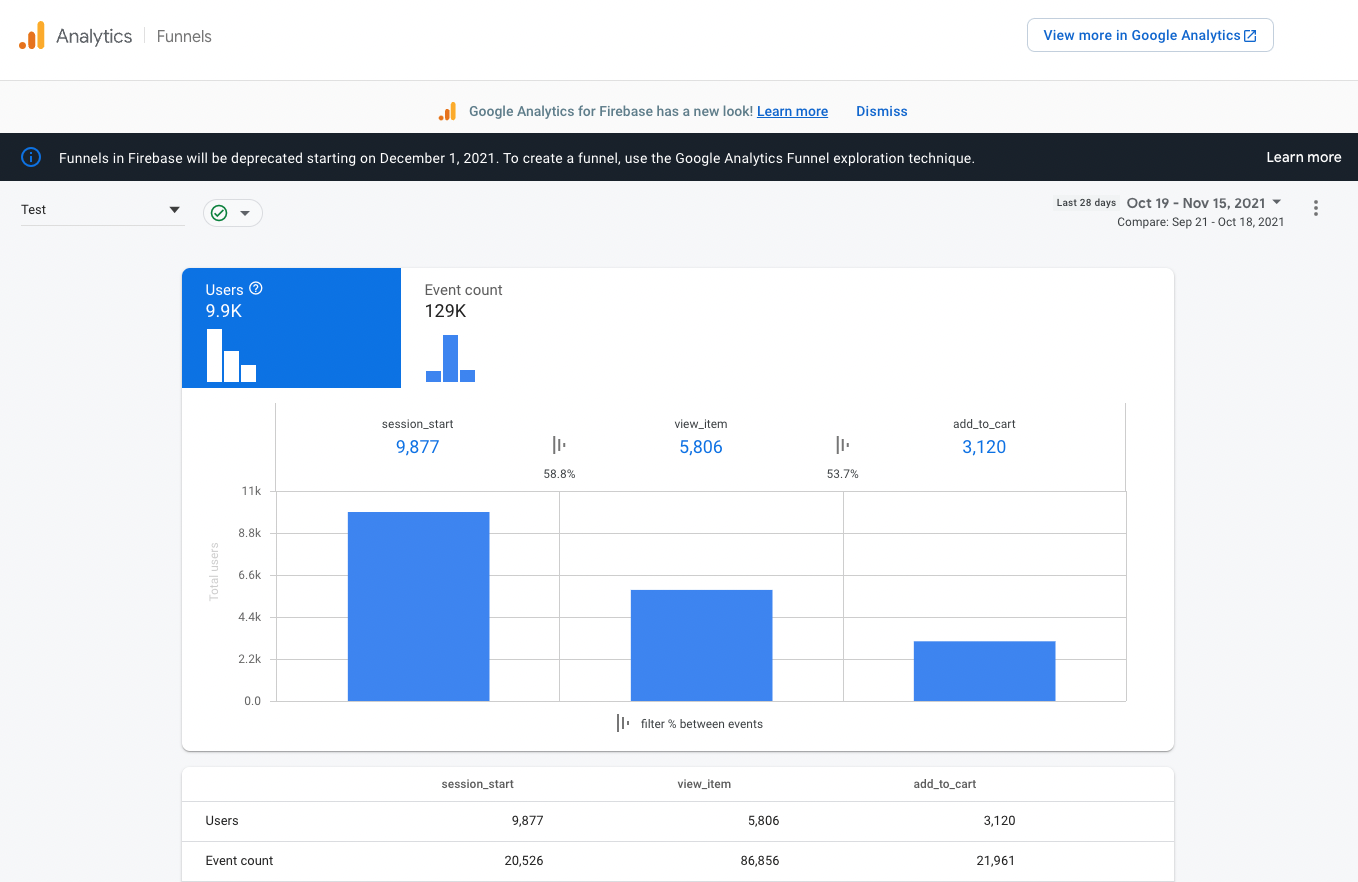 Custom Definitions
Use Custom Definitions to define a specific parameter. For example, if you wanted to create an add to cart event, but the user needs to add three products within a certain timeframe.

Latest Release
With 'Latest Release' you can see how successful the new build has been with adoption from your customers. This will show you the number of customers who are on a new build, which typically has new features or updates to ensure optimal functionality within the app. Please note, if a user opts out of sharing data via Apple then you will not be able to see the data for those customers.

Project Settings
Integrations
To set up any integrations with Firebase, simply navigate to the cogwheel on the right side of 'Project Overview' and select ' Project Settings'. From here you can tap on 'Integrations' and link your Google Analytics and/or Google Ads account(s) here. By setting this up it will feed data to your Google Analytics Dashboard.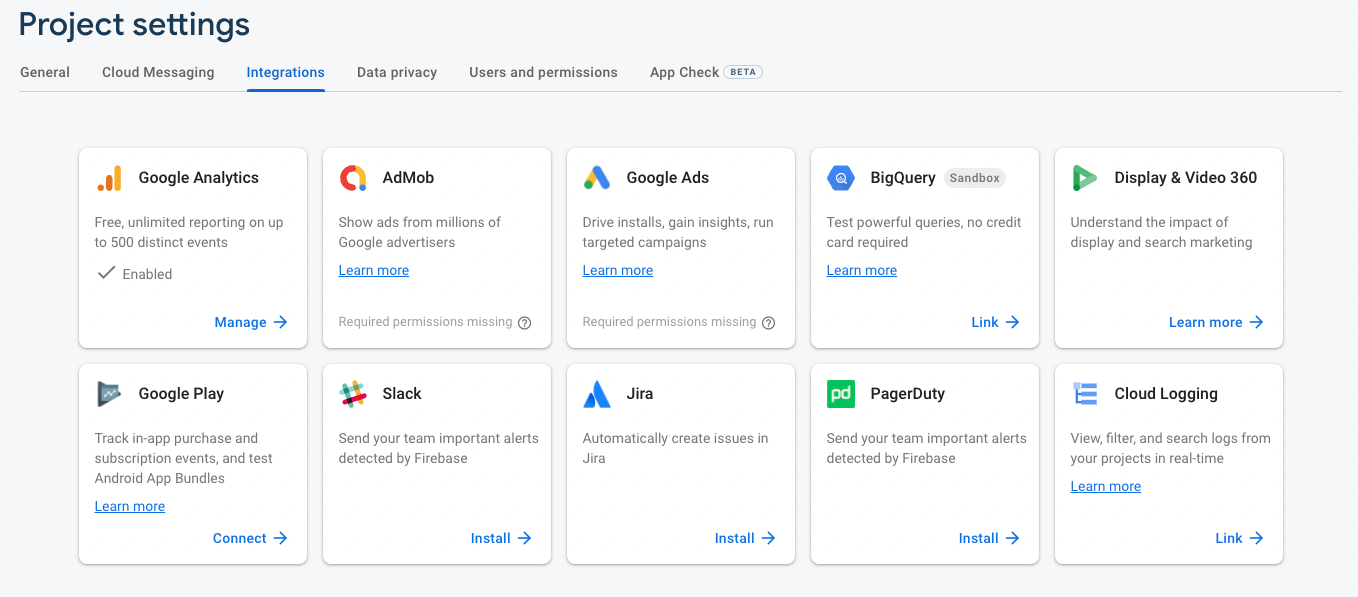 Considerations
The Firebase integration allows merchants to track app analytics such as downloads, sessions, users, etc. Add advanced e-commerce data to take your Firebase dashboard to the next level:
Track customer shopping and purchasing behavior

Pull data such as revenue and conversion rates

Get a more detailed view of what makes shoppers convert

Leverage all of

Firebase's eCommerce Analytics Suite
For more information on the events we currently track with Firebase, please visit this guide.
More Questions
To learn more about Tapcart, visit Tapcart Academy to become a mobile app expert!
If you have additional questions regarding the Firebase Integration, we're happy to help! Please reach out to us through LiveChat on your Tapcart Dashboard or email us at help@tapcart.co!