Providing customers with the ability to split their payments into installments, has been proven to increase conversion, retention, and average order value. In this article, we will walk through how to set up Afterpay within the app!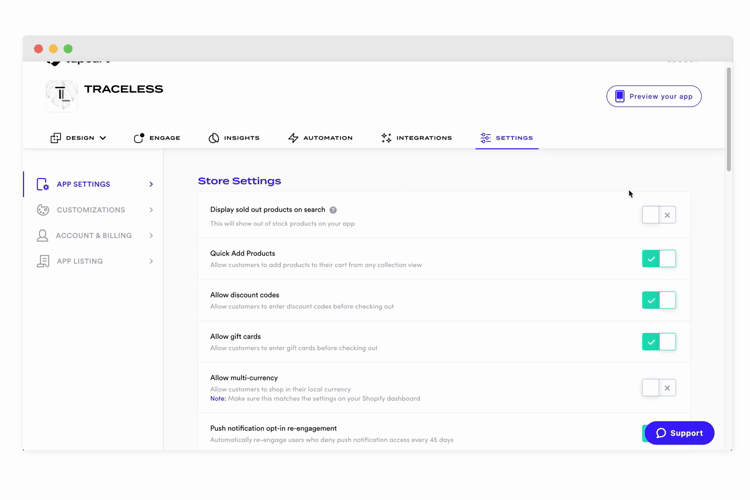 Important Note - Before getting started, please configure the payment installment option you will be providing your customers within your Shopify store. For more information on how to set this up, please check out Shopify's guide.
How to Activate Afterpay within the Dashboard?
Steps
After your payment installment option is set up in your Shopify store, navigate to the

Tapcart Dashboard

Click into 'Settings'

Scroll down to 'Payment Installment Options'

Simply select 'Afterpay' then 'Save & Update'
How to Promote Afterpay within the App?
Now that your payment installment option is configured within Tapcart. You can promote this payment option by adding the Afterpay block to your product detail page.
Steps
Navigate to the

'PDP Editor'

under the 'Tapcart Dashboard'

Locate the 'Afterpay' on the left-hand side 'Media Blocks' library

Drag and drop it, into your product detail page

Select 'Save' to display changes in your app
Considerations
Afterpay is a supported third-party payment method, meaning this will display as an option in the native checkout. Once Afterpay is selected, your customers will automatically be routed to a web checkout.
Important Notes:
AfterPay requires the cart to have a minimum of $35 to appear as a payment option. If the cart is lower than $35, Afterpay will not show on the 'Pay With' option.

At this time, you can only display one option for customers to use payment installments in the native checkout. If you offer multiple payment installment options, web checkout will give you the ability to show all options during the checkout experience.

For more information on our payment gateways, please check out this guide

.
More Questions
To learn more about Tapcart, visit Tapcart Academy to become a mobile app expert!
Have more questions, we're happy to help! Please reach out to us through LiveChat on your dashboard or email us at help@tapcart.co!