Through our research, we have found that push notifications are one of the most dependable and cost-effective ways to increase your mobile engagement. Not only with push notifications do you own your own marketing channel but we have found that:
Push notifications can

surge revenue up to 10x

within two hours of deployment.

Push notifications

increase user purchases by 9.6x

.

Push notifications have a

10x higher engagement rate compared to email.
With push notifications being a proven revenue driver, it's important to learn how to leverage this feature. In this article, we will walk you through how to incentivize users to subscribe to your push.
Creating your Opt-In Prompt
Your push opt-in prompt is one of the first things your customers will see upon opening the app for the first time. A banner will display at the bottom of your home screen to incentivize users to subscribe to your push notifications. It's important to use FOMO messaging within this prompt to create a sense of urgency for users to subscribe.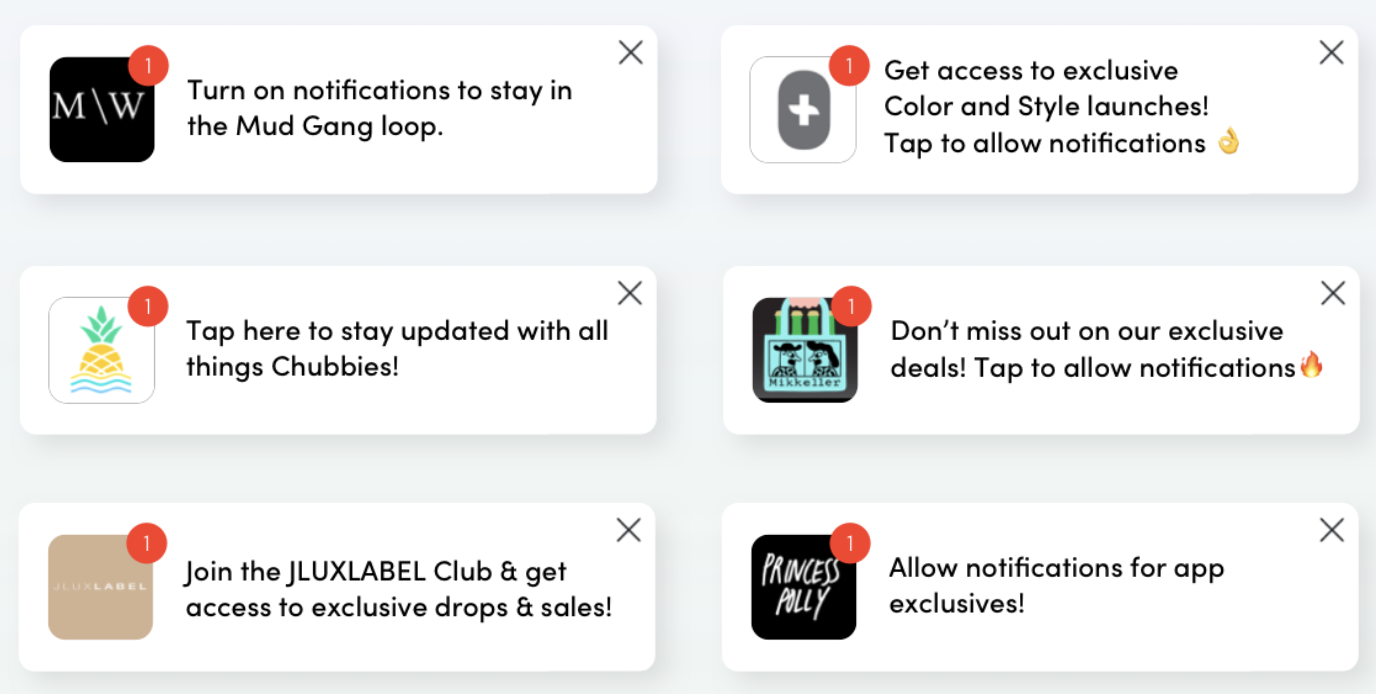 Pro-Tip: Offer app-exclusives within this messaging!
How to Customize Your Opt-In Prompt

Steps
In the dashboard, select 'Settings'

Under 'Store Settings' scroll to 'Push Notification Opt-In Prompt'

Customize copy up to 85 characters

Select 'Save & Update' and you are all set!
Pro-Tip: Turn on the 'Push notification opt-in re-engagement' setting. This will automatically re-engage users who deny push notification access every 45 days.
Considerations
While focusing on the growth of your mobile app, it's important to have a constant growth campaign. A great way to do this is by consistently creating app-exclusive campaigns, whether this is early access to a sale or an exclusive collection drop. You want to create campaigns that are attracting users to the app.
Leveraging your existing email database and social media following is a great way to get started.
More Questions
To learn more about Tapcart, visit Tapcart Academy to become a mobile app expert!
Have additional questions regarding push, we're happy to help! Please reach out to us through LiveChat on your Tapcart Dashboard or you can email us at help@tapcart.co!