What is Nosto?
Nosto is the world's leading AI-powered personalization platform, essentially a more robust recently viewed search engine. Their algorithm recommends products based on user behavior, personalizes content by drawing from rich data profiles, and increases sales by predicting buying habits.
In this lesson:
Learn how Nosto can help you boost AOV and drive conversions

The different recommendation types of Nosto
Why Nosto + Tapcart?
The Nosto Tapcart integration provides the most personalized shopping experience through mobile to increase conversions and remove barriers to purchase. This integration provides a personalized experience in the app via dedicated product carousels that can be placed on the Product Detail Page and Homepage(s). Carousels can be configured to recommend related products (if on the PDP, or to recommend products per a given category). User behavior is tracked when the Nosto integration is enabled so that a user's recommendations can be refined based on viewed products.
How to Connect Nosto + Tapcart?
Here's how to set up the integration:
The integration is available to all Tapcart Enterprise customers who also have a Nosto licensing membership.
For more information on Nosto, you can book a demo with their team here.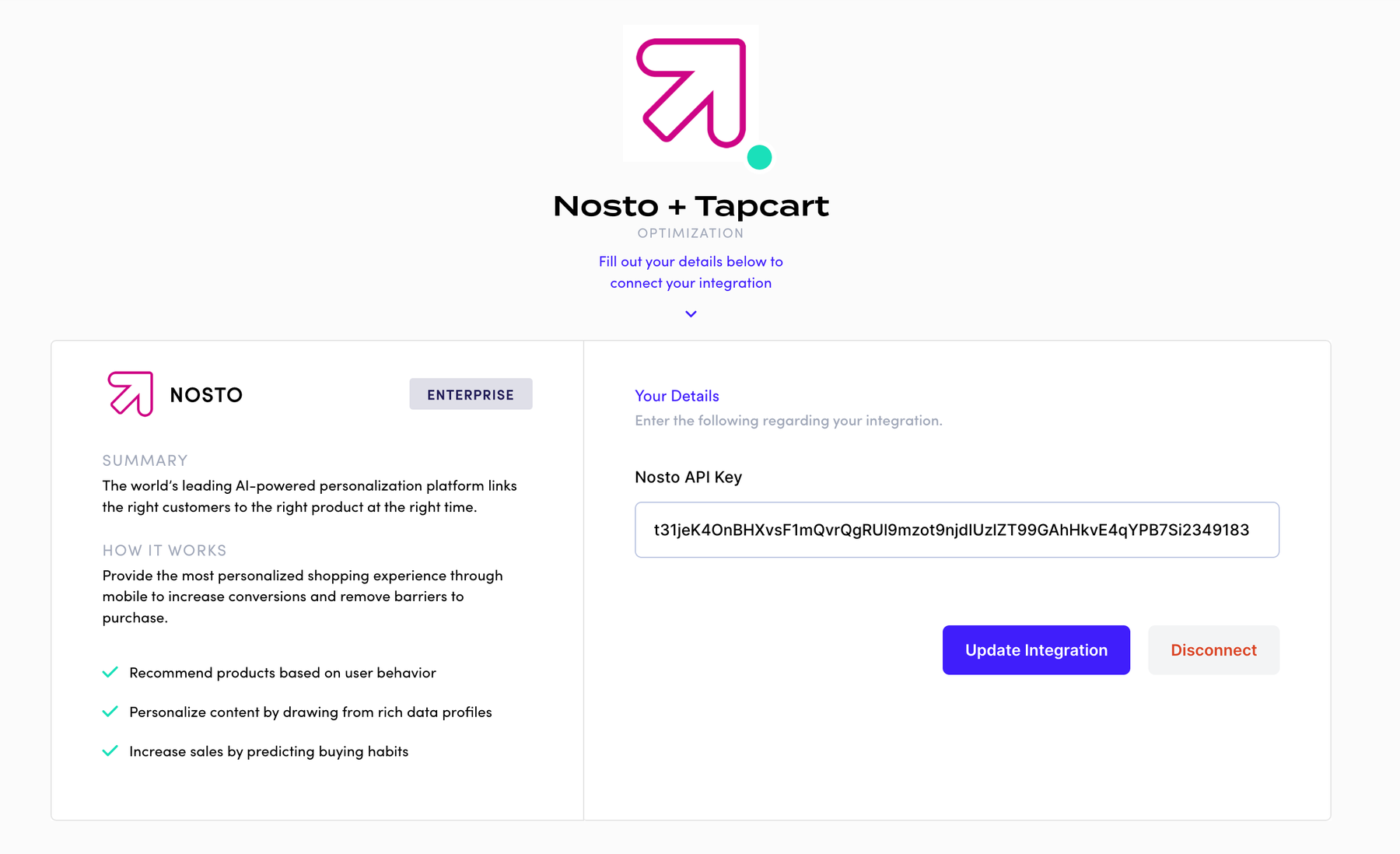 Steps
Contact a

Nosto Team Member

to request your API Key

Once you receive your 'API Key' copy & paste this into the respective field on the Nosto integration page within your Tapcart Dashboard

Click 'Save & Enable' and you are all set!
How to Configure Nosto on the PDP + Homepage?
Now that your integration has been configured on the backend. You can promote this feature by adding the Nosto block to your product detail page. Once added to your page designer you'll follow the steps below to complete the configuration.
Step 1
Select the recommendation type:
Frequently bought together

: Shows products frequently bought with the current product you are viewing on the PDP. This is a default product recommendation type powered out of the box by Nosto.

Frequently viewed togethe

r: Shows products frequently viewed with the current product you are viewing on the PDP. This is a default product recommendation type powered out of the box by Nosto.

Frequently viewed together(smart)

: Displays items other visitors have viewed close to currently viewed items. This is a default product recommendation type powered out of the box by Nosto.

Default recommendations: This is a default product recommendation type powered out of the box by Nosto.
Category page: Category name
Step 2, ONLY IF, 'Category page' is selected as the 'Recommendation Type'
You will add the category name
Enter the Slot ID
Create Fallback Recommendations
Category page
Categories in Nosto are EXACTLY the same objects as COLLECTIONS in Shopify. Therefore, if a merchant wants to generically show recommendations for one of their Shopify collections, such as "Pants", then they can paste the collection title (Category Name) into this field as is.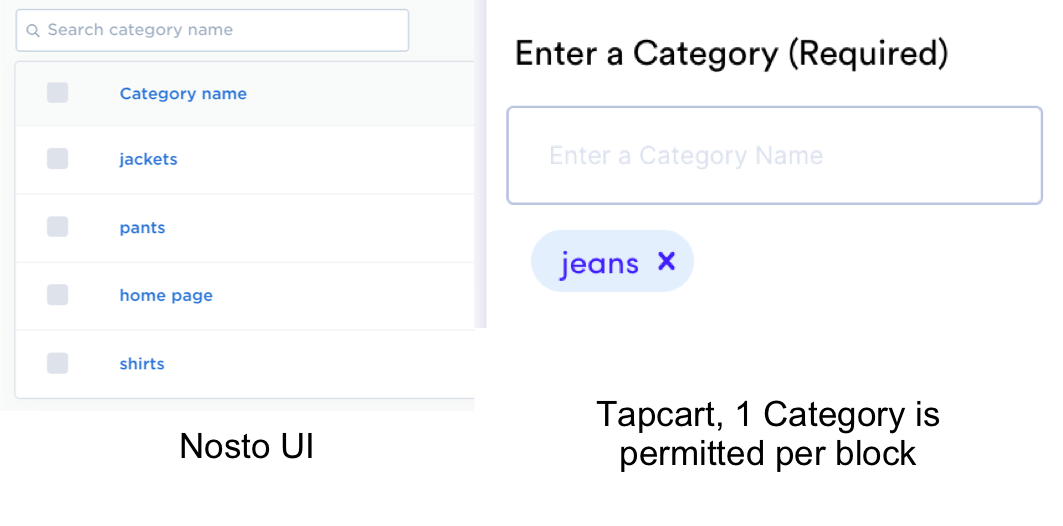 Slot ID
Slot IDs map to a specific recommendation slot you have created in Nosto. Recommendation slots allow you to apply more advanced logic beyond a category filter. This lets you tie the recommendations to specific browsing behavior, product tags, etc.

The slot ID is optional, but you are allowed to enter multiple. When used, results will be pulled from the recommendation slot(s) and filtered to the permitted category. When using multiple slot IDs, results will be pulled from the first returned slot ID to populate the carousel. If the first slot ID does not contain enough products to fill the carousel, then products will be pulled from the second slot ID in the list.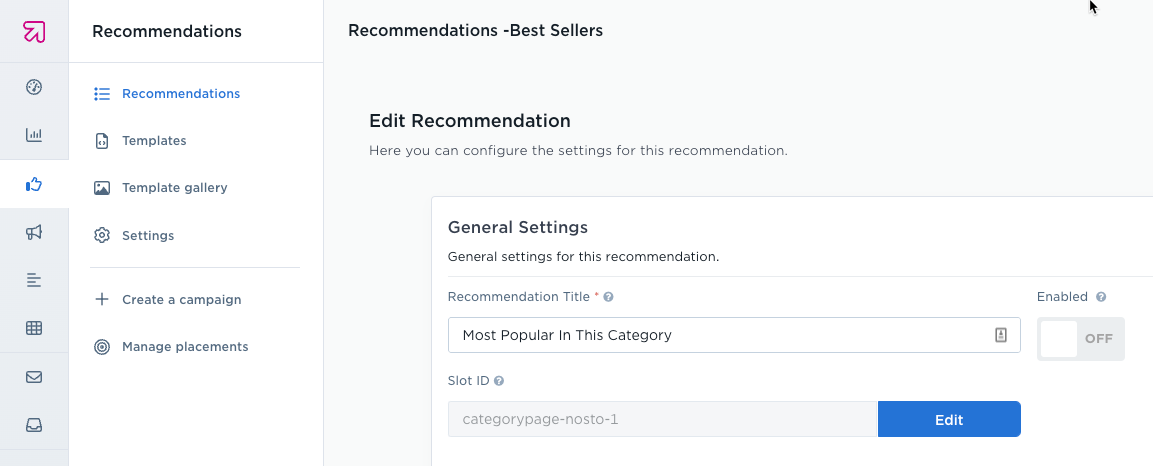 Steps to find your slot ID:

Login to your Nosto App
Select 'Category Merchandising' and tap 'Overview'
Search for category name: Slot IDs: Nosto app
Then choose 'Recommendations' and select a campaign
From here you can copy the slot ID
Creating Fallback Recommendations
Some recommendation types require a user to provide browsing preferences before it can calculate products to recommend.

These preferences are passively collected based on the user's activity in the app. Sometimes it can take days before Nosto will have recommendations determined for the user, and will provide no products in the meantime. To avoid this dead period of recommendations, you can use fallback behavior to show other products in the meantime. To learn how to set this up, check out Nostos - recommendation slots
Step 3
Choose to conditionally tag or rename the Nosto block as you wish!
Step 4
Repeat steps 1 + 2 on the homepage design, to add your Nosto block!
Important Note: Conditional tagging and product-based recommendations are not available for Nosto homepage blocks. This is because there is no single product to reference, on the homepage you can only do 'Category' based recommendations.
How does a Consumer interact with the Integration?
Step 1
Depending on the recommendation type, it may take a few sessions for a user to start to see recommendations from Nosto. In most cases, recommendations should be served to a user when they first download the app & begin using it.
Step 2
Recommendations are served within a product carousel and will be on brand with product carousels across the app. Users will not know that the products recommendation are coming from another service, and the carousels will additionally feature the custom title set.
Step 3
When tapping on a product within a recommendation carousel, users will be navigated to the respective product page. All product clicks in the app are sent back to Nosto, so that further recommendations can be built around the product they interact with.
How is Data Attributed back to Nosto?
Step 1
All product view events in the app will be sent to Nosto when the integration is enabled. This allows Nosto to build recommendations around a specific user.
Step 2
If a user views a product (that was served from a recommendation from Nosto), then that will be indicated for Nosto in the view event Tapcart sends over. This also tells Nosto the success rate of recommendations served by Nosto.
Considerations
The Nosto integration is available to Tapcart Enterprise customers only.
For more information on plans, check out our pricing page. If you are interested in exploring the benefits of our plans, please book a demo with our Brand Experience team.
More Questions
To learn more about Tapcart, visit Tapcart Academy to become a mobile app expert!
If you have additional questions regarding the Nosto integration, we're happy to help! Please reach out to us through LiveChat in your Tapcart dashboard or you can email us at help@tapcart.co!