There can be multiple reasons preventing your customers from receiving push notifications. In this article, we will walk you through the troubleshooting process to resolve this for your customer base!
Step 1: Ensuring Pay Certificate is Updated in Apple Developer
Apple Developer will send out an email when your certificates are about to expire, if you receive an email similar to the one shown below, reach out to help@tapcart.co to update this right away!
To check if your push certificate has expired simply navigate to Apple Developer and select 'Certificates, Identifiers & Profiles'. From here you can see when the 'Apple Push Services' certificate expires on the right-hand side under 'Expiration'. If you see it has expired, please reach out to help@tapcart.co to update this!
Step 2: Use the 'Debug Mode' on Android or iOS
Using the debug mode on your specific device can help us further investigate the issue to get it resolved quickly. To do this simply open the device with push issues, and press the homepage title bar 10 times in a row to display the debug modal. The debug modal will include the device's 'Device ID' and 'Push Token'.
If there is a push token, then the device has opted into push notifications
If there's no push token (Push Token = Unknown), then the device has not opted into push notifications. In this case, enable push on the device, quit the app, and reopen. Go into debug mode again to see if a push token has been populated.

Press 'Copy' and paste the info into the support chat or email you have with your point of contact at Tapcart.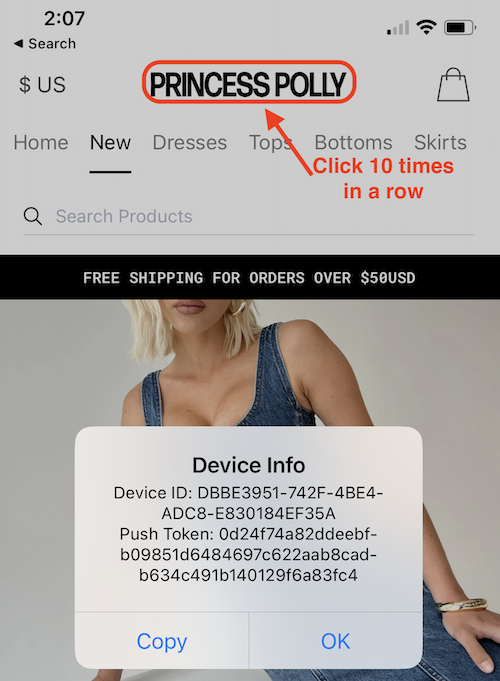 More Questions
To learn more about Tapcart, visit Tapcart Academy to become a mobile app expert!
If you have additional questions or need further assistance troubleshooting, we're happy to help! Please reach out to us through LiveChat within your dashboard or email us at help@tapcart.co!